By Brett & Kate McKay on January 3, 2011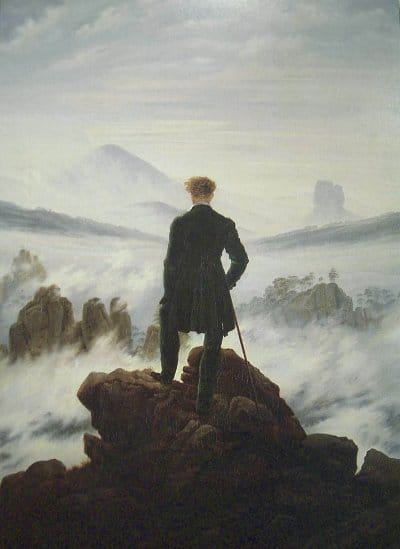 As we advance in the spiritual life and in the practice of systematic self-examination we are often surprised by the discovery of vast unknown tracts of the inner life of the soul. They seem like great plains stretching out in mystery and wrapt in mists that sometimes for a moment lift, or sweep off and leave one looking for one brief instant upon great reaches of one's own life, unknown, unmeasured, unexplored. Men stand at such moments breathless in wonder and in awe gazing upon these great tracts upon which they have never looked before, with kindling eyes and beating hearts; and while they look the mists steal back till all is lost to sight once more and they are left wondering if what they saw was reality, or the creation of their fancy. Or sometimes they see, not far-stretching plains which fill the soul with an awestruck sense of its expansiveness and of how much has been left absolutely uncultivated, not these plains but mountain peaks climbing and reaching upwards till lost in the heavens, echoing it may be with the voice of many streams whose waters fertilize and enrich those small tracts of the soul's life which have been reclaimed and cultivated and which many a man has thought to be his whole inner self, though he never asked himself whence those rich streams had their source. Now he sees how their source lay in unmeasured heights of his own inner being whose existence he never dreamed of before. In one brief instant they have unveiled themselves. He looks again, and they are shut out from his eyes, there is no token visible that he possesses such reaches, such heights of life. The commonplaces of his existence gather in and crowd upon him, the ordinary routine of life settles down upon him, limiting and confining him on all sides, the same unbroken line measures his horizon, such as he has always known it, the same round of interests and occupations crowd in upon his hours and fill them, the pressure of the hard facts of life upon him are as unmistakable and as leveling as ever, bidding him forget his dreams and meet and obey the requirements of the world in which he lives. And yet the man who has caught but a momentary glimpse of that vast unknown inner life can never be the same as he was before; he must be better or worse, trying to explore and possess and cultivate that unknown world within him, or trying—oh, would that he could succeed!—to forget it. He has seen that alongside of, or far out beyond the reach of, the commonplace life of routine, another life stretches away whither he knows not, he feels that he has greater capacities for good or evil than he ever imagined. He has, in a word, awakened with tremulous awe to the discovery that his life which he has hitherto believed limited and confined to what he knew, reaches infinitely beyond his knowledge and is far greater than he ever dreamed. -From Self-knowledge and Self-Discipline by Basil William Maturin,
By Scott Berkun on October 29, 2010
Recently, this comment was left on my job posting for a book designer:
You know what they say, Mr. Berkun – you pay peanuts; you get monkeys. If you want someone to spend the time required to design a book and then not get paid with anything other that good wishes, you're on the wrong track. Would you do consulting for free if a company said they would give you freedom and publicity alone?
By (author unknown) on June 20, 2010
[SPOILER WARNING: This is pretty much all spoilers, so please seem the movie before reading. It's a really, really good movie — probably the best Disney film. So you should totally see it. First.]
By Study Hacks on April 9, 2010
The Lonely Rise of Sonya Sotomayor
Tucked away in the northeast corner of the Bronx, not far from Edenwald Houses, the borough's largest public housing project, sits the Cardinal Spellman Highschool — a private, yet still affordable catholic high school (the annual tuition is under $7000), that has been for the past fifty years, as Lauren Collins put it in a recent New Yorker article, home to "strivers of assorted ethnicities" attempting to better their situation.
Read more on Corrupted Callings: The Subtle Difference Between Finding Your Life's Work and Loving Your Life…
By Joel Spolsky on September 27, 2009
Jamie Zawinski is what I would call a duct-tape programmer. And I say that with a great deal of respect. He is the kind of programmer who is hard at work building the future, and making useful things so that people can do stuff. He is the guy you want on your team building go-carts, because he has two favorite tools: duct tape and WD-40. And he will wield them elegantly even as your go-cart is careening down the hill at a mile a minute. This will happen while other programmers are still at the starting line arguing over whether to use titanium or some kind of space-age composite material that Boeing is using in the 787 Dreamliner.
By Brett & Kate McKay on June 9, 2009
Before Google and the internet, people memorized stuff. When your grandpa went to school, memorization was the main method of learning, and he had to commit things like the Gettysburg Address and sonnets by William Shakespeare to memory. Decades ago, rote leaning went entirely out of fashion amongst educators, in favor of helping students think creatively and problem solve. Yet, the pendulum swung a bit too far, and the baby got chucked out with the bathwater. For in truth, there are many advantages to memorizing information. After all, while it's important to be able to think and apply knowledge, if you don't have any knowledge to apply, knowing how to apply it is pretty useless. This is where memorization comes in.
Google Author link