By Leander Kahney on October 14, 2010
John Sculley, Apple's ex-CEO, talks for the first time about Steve Jobs. Illustration by Matthew Phelan.
In 1983, Steve Jobs wooed Pepsi executive John Sculley to Apple with one of the most famous lines in business: "Do you want to spend the rest of your life selling sugared water or do you want a chance to change the world?"
Read more on John Sculley: The Secrets of Steve Jobs' Success [Exclusive Interview]…
By Leander Kahney on October 14, 2010
Steve Jobs and John Sculley, the former CEO of Apple. The pair were dubbed the "dynamic duo."
Here's a full transcript of the interview with John Sculley on the subject of Steve Jobs.
Read more on John Sculley On Steve Jobs, The Full Interview Transcript…
By Jeffrey on September 29, 2010
The surprising thing about it—I almost said the insidious thing, but I'm trying to be anthropological—the surprising thing, to me, is that once we have our gramophone, or iPad, or locomotive, we become that which has the gramophone, the iPad, or the locomotive, and thereby, are instantly incapable of recognizing what just happened to us, as I believe we're incapable of understanding what broadcast television, or the radio, or telephony did to us.
Read more on "…instantly incapable of recognizing what just happened to us…"…
By Brett & Kate McKay on July 2, 2010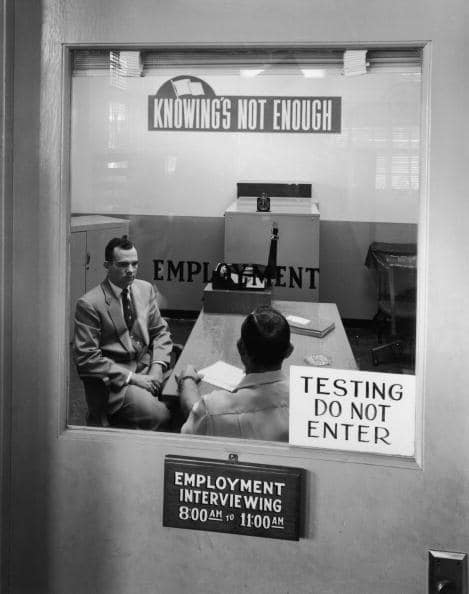 Job interviews can be nerve-racking. You have one shot to convince a potential employer that they should hire you instead of dozens (and maybe hundreds) of other qualified candidates. In this tough job market, a man has to be on top of his game during interviews if he wants a chance to land the job.
Read more on How Prepare for and Rock a Behavioral Job Interview…
By Antonio on September 10, 2009

From Possibility to Actuality
There are some topics I know a great deal about, and some topics I don't. Style and fashion would fall into that latter category. But I know enough to understand that how we look is absolutely critical to how other perceive us and how we feel about ourselves. So when I started the Art of Manliness, I went looking for a man who could provide readers with sound on advice on classic men's style. When I came across Antonio Centeno's articles at A Tailored Suit, I knew he was just the guy for the job. In return for providing the Art of Manliness with absolutely top notch fashion advice, I'm happy to give Tony's business some exposure. And so Tony has become an important partner with the Art of Manliness. And today, we asked him to take part in our "So You Want My Job" series so that he could share more about himself, what the Tailored Suit is all about, and his advice to other men about being an entrepreneur. Thanks for all you do Tony!
By adamwulf on July 8, 2009
So what does Ive look for when interviewing would-be Apple designers? Belief, passion and a commitment to strive for perfection. "When I'm interviewing people to join the team, the discussions go like this: 'this was my idea, this is how it turned out in manufacturing, and it's rubbish, isn't it? But it isn't my fault'," he recounted wryly, before becoming serious. "There's a list of excuses and reasons why it was somebody else's fault other than the designer's. Now I understand that, I've been there, I've been frustrated beyond words with other companies when I was working independently. But when you've gone through a whole portfolio like that, at some point you have to say: 'if you really do care about the quality of what ends up getting made, wouldn't you find an answer, some sort of alternative, and somehow figure out a way to take your idea and do something with it?'"
Read more on Jonathan Ive on The Key to Apple's Success – BusinessWeek…
By adamwulf on June 10, 2009
great article about y combinator's Paul Graham
Google Author link